Welcome



The quality of an instrument often referred to the skill and knowledge of the craftsman. The

classical guitar

is more than means of expression, it is also a way to do art.

The many years of experience in the manufacture of high-hand furnishings learned me about the unique properties of different species of wood.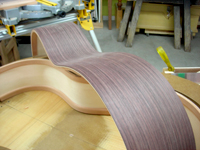 With all these knowledge and skills and the interest generated by the practice of guitar, I have comnbined, as self-made man, career and passion.

To reach this level of quality, I manufacutre myself and handmade, in my workshop, all the components of the guitar . This direct contact with wood enable me to offer you an instrument of exceptional qualitie. Each guitar is the reflection of my passion for wood and music.

Enjoy the website
François Laramée